September 23, 2011
Keith Recker of Hand/Eye magazine has asked for help spreading the word about his gorgeous magazine. The magazine explores the amazing work of crafts people from around the world with an emphasis on sustaining and supporting indigenous people. Keith was recently honored as the ambassador of the month of June by the Urban Zen Foundation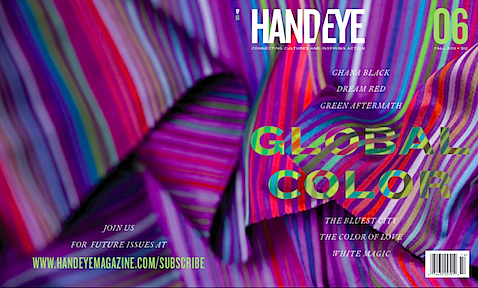 Please have a look at this PDF version of the Magazine Hand/Eye 06
Please consider subscribing
Please help spread the word!
thanks
Nico
August 5, 2011
I will be participating in a show titled "Architecture" at the Silas Marder Gallery in Bridgehampton NY. The show will be on view from August 6 – September 18
There wil be an opening reception on August 6 from 5-9pm. I will be in attendance!
The artists include:
Megan Berk
Ben Butler
Alexander Cheves
Michael Rosch
Richard Serra
Richard Tuttle
Nico Yektai
Kevin Zucker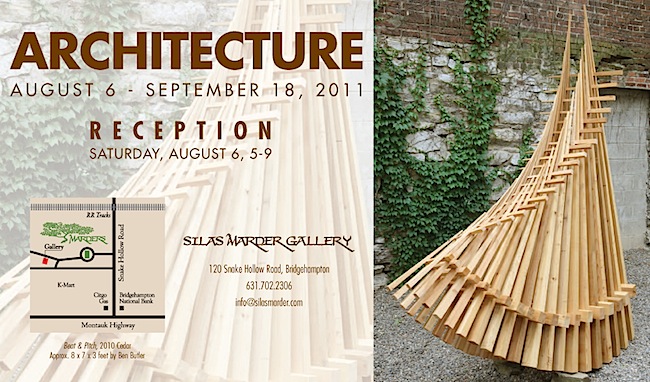 P.O. Box 1261
120 Snake Hollow Road
Bridgehampton, NY 11932
631/702-2306
July 17, 2011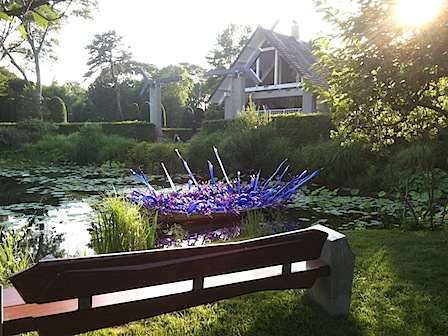 The White Hot and Blue 20th Anniversary celebration at the LongHouse Reserve was last night in East Hampton NY. Jack Lenor Larsen and the countless people who staged this event were favored with a perfect evening. Even the weather cooperated!
The event started off in a unique way with performers from the Big Apple Circus scattered around the grounds. We were greeted by this performer as we entered the garden.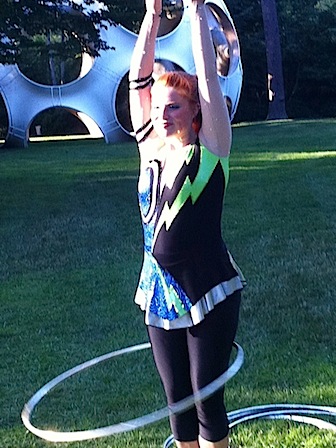 Philanthropist Barbara Slifka was honored by the LongHouse Reserve. The Principals from the New York City Ballet made the journey east to perform in celebration of Barbara and her generosity over the years. Ballet in the open air was a real treat!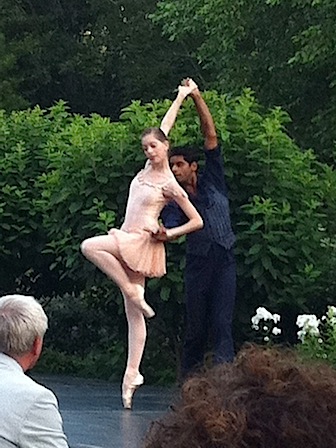 The highlight for me was the Dale Chihuly installation of Blue and Purple Boat, 2006. I had been approached by the team at the longhouse about moving my bench so that it would have a better relationship to the floating sculpture. I made my way over to the LongHouse in about 5 minutes to move my bench! Here are the results.
Bench #4 with Dale Chihuly Purple and Blue Boat, 2006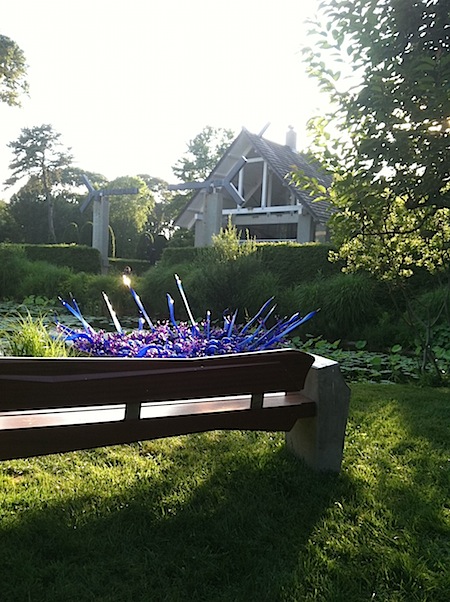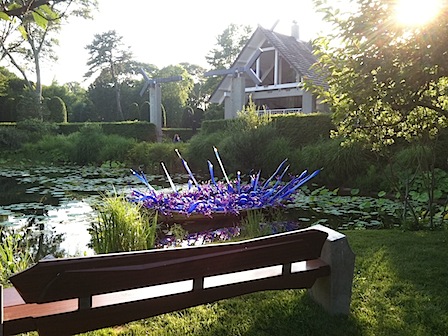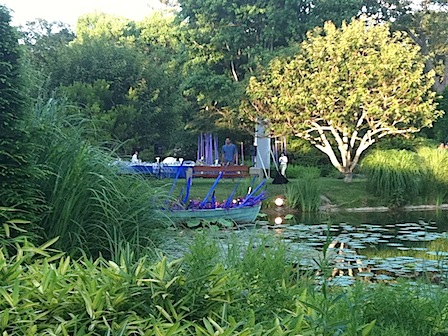 From the LHR about Dale Chihuly:
Creative genius, Dale Chihuly (b. 1941), is the most innovative and influential American artist working in glass today. Introduced to the medium while studying interior design at the University of Washington, Chihuly is the quintessential force behind the movement to change the very dimension and definition of blown glass into a large-scale art form. He revolutionized the oeuvre from solo studio-glass practitioner to that of using a collaborative team to help him produce his work. His dramatic and colorfully amorphous art forms attract a world-wide audience.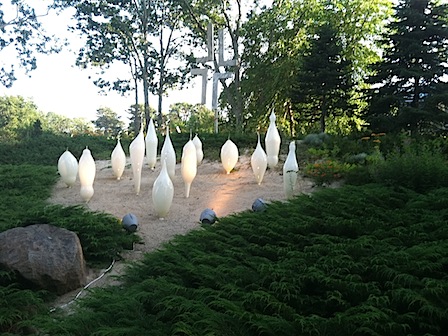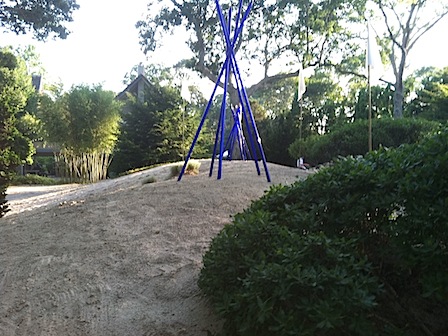 I hope that my mirror sold at the auction! Thanks you LongHouse for a fabulous evening!