June 19, 2010
I will be participating in the new "Open Bowls" section of the third installment of the Planters On and Off the Ground show at the Longhouse Reserve in East Hampton NY.
The new category is for people like myself whose specialty is creating the original vessel. I look forward to seeing the work of the other artists.
Planters On and Off The Ground / Open Bowls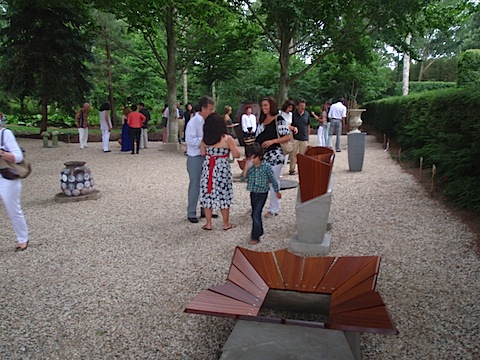 Longhouse Reserve in East Hampton NY
Opening reception on Saturday June 26 5:30PM
June 8, 2010
The weather decided to cooperate on the 5th of June for the opening reception of the latest show, Sitting Pretty, at the Berkshire Botanical Garden. The evening was able to proceed as planned with the group moving from piece to piece. Each artist was given an opportunity to talk about their work and answer the thoughtful questions from the audience. Douglas Thayer was the first artist to talk. His "Baseball" bench made of recycled Ipe from Coney Island boardwalk was the first of four pieces that Doug talked about.
Douglas Thayer and his "Baseball" bench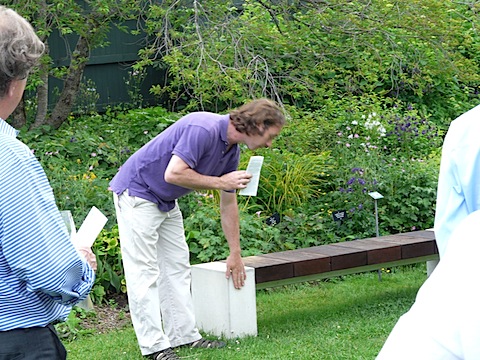 Terence Dubreuil and Vivian Beer were not able to make the opening so Joyce Nereaux, the curator of the show, stood in for them. Jack Larimore had car trouble on the way to the opening so Peter Harrison  helped to explain his work. Lisa Fedon was in attendance and spoke about her work. I am glad I had a chance to tell Lisa how much fun our boys had with he OM-Cair (with gong).
Peter Harrison examining the work of Vivian Beer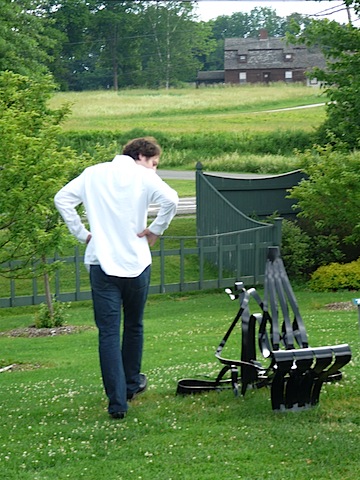 I have included the video of my talk with the opening night crowd. Due to the logistics of moving through the gardens we moved from bench 1 to 4 to 3. I have taken the liberty of putting the videos in chronological order. I think it makes for a slightly more coherent presentation of my development.
We are looking forward to coming back to see the show again as the gardens go through there annual transformation!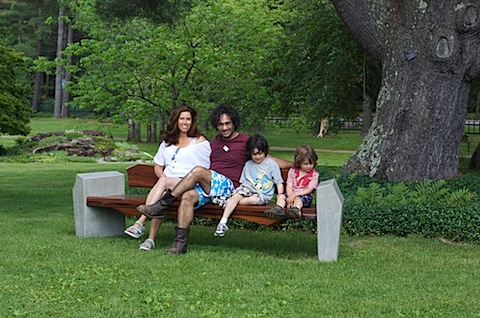 May 28, 2010
Sitting Pretty: The Garden Bench As Sculpture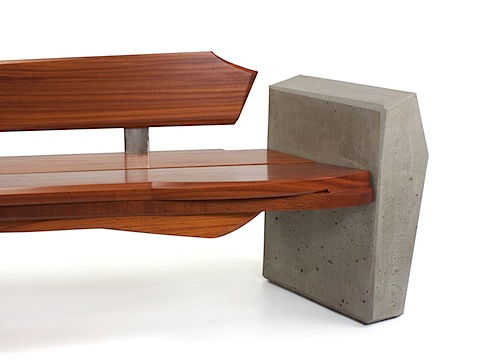 Berkshire Botanical Garden June 5-through the season
Opening Reception Saturday June 5 from 5-7pm
Hours are 10am-5pm daily
May 1 – Columbus Day
More information
The Berkshire Botanical Garden is presenting the outdoor benches of six artists in a show curated by Joyce Nereaux. I will be exhibiting three benches and a pair of my planters. This is the first time that I have exhibited three of the four benches in my outdoor series in the same show (Outdoor Bench #2 is on view at the Longhouse Reserve in East Hampton NY). Outdoor Bench #4 was recently completed and makes its debut in the show. The bench features cast concrete, Sapele and Stainless Steel in its 10′ footprint.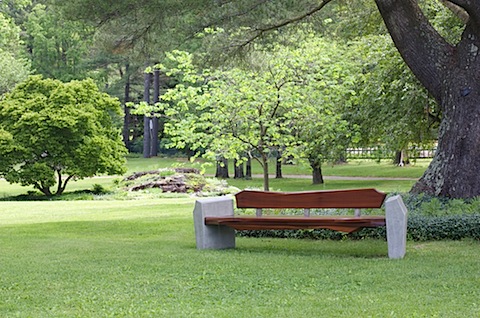 Outdoor Bench #4
Sapele, Cast Concrete and Stainless Steel 117″ L x 25″W x 30″ H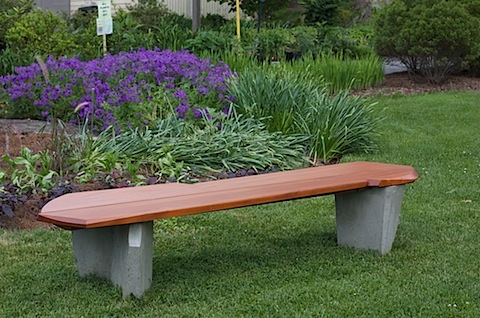 Outdoor Bench #3
Mahogany, Cast Concrete 84″L x 22″W x 17″H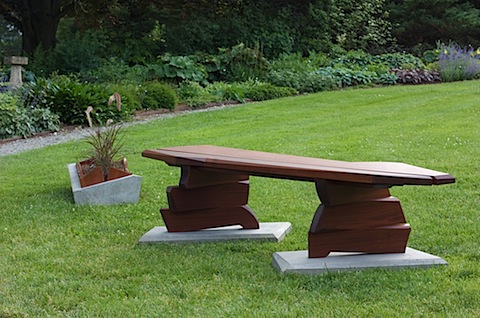 Outdoor Bench #1
Sapele 81″L x 21″W x 17″H