April 8, 2009
This spring marks the beginning of a two year loan of Outdoor Bench #2 to the LongHouse Reserve. The LongHouse is the home of and represents the vision of Jack Lenor Larsen. It is one of the places that makes the East End of Long Island such a special place to live. For those of you who are not aware of the splendor of the grounds you can get a sense of it from their website. Those of you who visit the East End should go and have a look at the Longhouse Reserve.
I get so distracted by the sculpture that I often forget to look at the house, it's a work of art in itself. My bench is positioned on the left side of the house.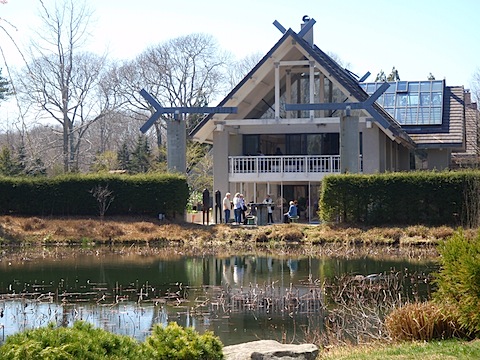 Outdoor Bench #2 is one of the largest benches I have ever built. It measures ten feet long and the cast concrete legs add to its massive presence. It looked absolutely enormous in my studio and I thought I would not build a bigger bench than this one. Things have changed! The scale of the longHouse is so grand that this bench actually looks a bit on the small side. I have not designed it yet but I now feel encouraged to build bigger. (my back is not happy about this development)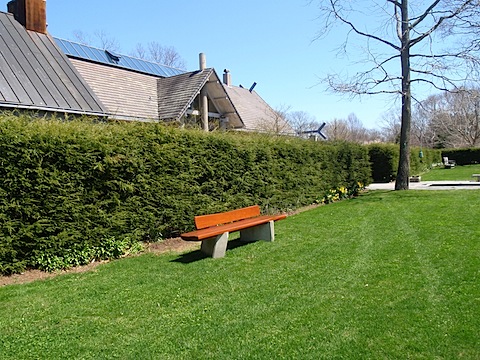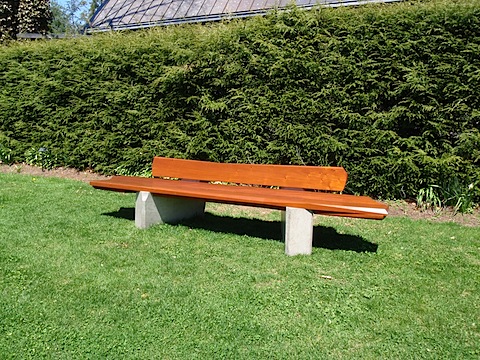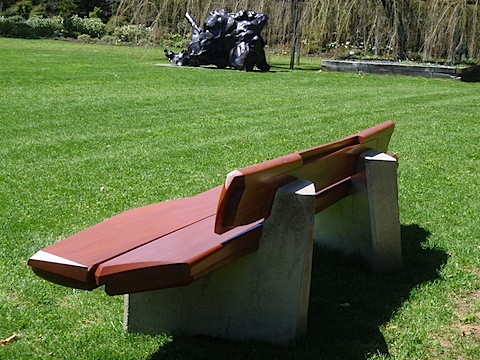 Update: Bench #4 from Bench Series #2 is now at the Longhouse!

By Nico Yektai -
New York based designer/maker Nico Yektai opened the doors to his Hamptons studio in 1995 after completing the MFA program at the School For American Craft at the Rochester Institute of Technology. The rigorous technical training complimented his background in Art History, which he studied, at Hobart College in Geneva NY. Yektai has synthesized this background into a singular style that has gained him national attention. Visit
nicoyektai.com
for more information
One Response to "Longhouse Reserve – Outdoor Bench #2"