June 8, 2010
The weather decided to cooperate on the 5th of June for the opening reception of the latest show, Sitting Pretty, at the Berkshire Botanical Garden. The evening was able to proceed as planned with the group moving from piece to piece. Each artist was given an opportunity to talk about their work and answer the thoughtful questions from the audience. Douglas Thayer was the first artist to talk. His "Baseball" bench made of recycled Ipe from Coney Island boardwalk was the first of four pieces that Doug talked about.
Douglas Thayer and his "Baseball" bench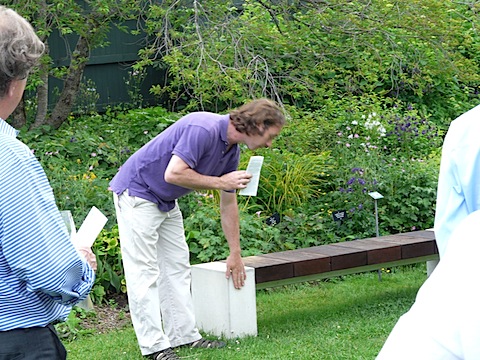 Terence Dubreuil and Vivian Beer were not able to make the opening so Joyce Nereaux, the curator of the show, stood in for them. Jack Larimore had car trouble on the way to the opening so Peter Harrison  helped to explain his work. Lisa Fedon was in attendance and spoke about her work. I am glad I had a chance to tell Lisa how much fun our boys had with he OM-Cair (with gong).
Peter Harrison examining the work of Vivian Beer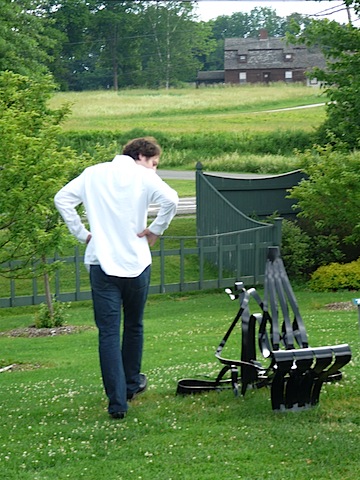 I have included the video of my talk with the opening night crowd. Due to the logistics of moving through the gardens we moved from bench 1 to 4 to 3. I have taken the liberty of putting the videos in chronological order. I think it makes for a slightly more coherent presentation of my development.
We are looking forward to coming back to see the show again as the gardens go through there annual transformation!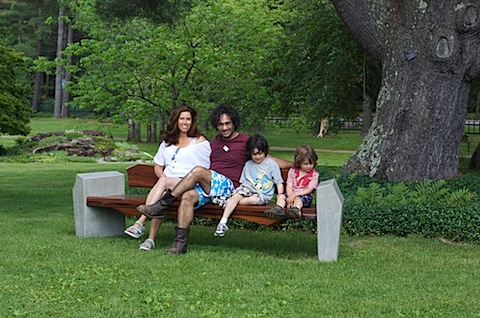 By Nico Yektai -
New York based designer/maker Nico Yektai opened the doors to his Hamptons studio in 1995 after completing the MFA program at the School For American Craft at the Rochester Institute of Technology. The rigorous technical training complimented his background in Art History, which he studied, at Hobart College in Geneva NY. Yektai has synthesized this background into a singular style that has gained him national attention. Visit
nicoyektai.com
for more information